Offer comprehensive approach to creating customized and bespoke furniture tailored to your specific requirements, design blueprints, and industry standards. 
Customization & Bespoke Process
Customization and bespoke furniture manufacturing in Jepara, Indonesia, without the use of computer-aided manufacturing (CAM) relies on traditional craftsmanship and manual techniques to create unique, tailored pieces. Jepara is well-known for its skilled artisans and high-quality wood furniture, particularly teak wood.
The process typically includes the following steps:
Design consultation: The manufacturer works closely with clients to understand their vision, requirements, and preferences. They discuss materials, finishes, and functionality, and provide expert advice on the best way to bring the client's ideas to life.
Material selection:

The manufacturer sources high-quality, natural materials, such as teak wood, rattan, fabrics, leather, glass, and metal, to create the furniture. Jepara is particularly famous for its teak wood furniture, which is highly durable and visually appealing.

Craftsmanship: Skilled artisans and craftsmen in Jepara use traditional woodworking techniques, such as joinery, carving, and finishing, to create the furniture. 
Quality control: Throughout the manufacturing process, the manufacturer ensures that the furniture meets high-quality standards and the client's expectations. This may involve regular inspections, adjustments, and refinements.
Assembly: Once the individual components are crafted, they are assembled to create the final furniture piece. 
Finishing: The furniture is then finished using various techniques, such as coating, staining, painting, or varnishing, to enhance its appearance and protect it from wear and tear.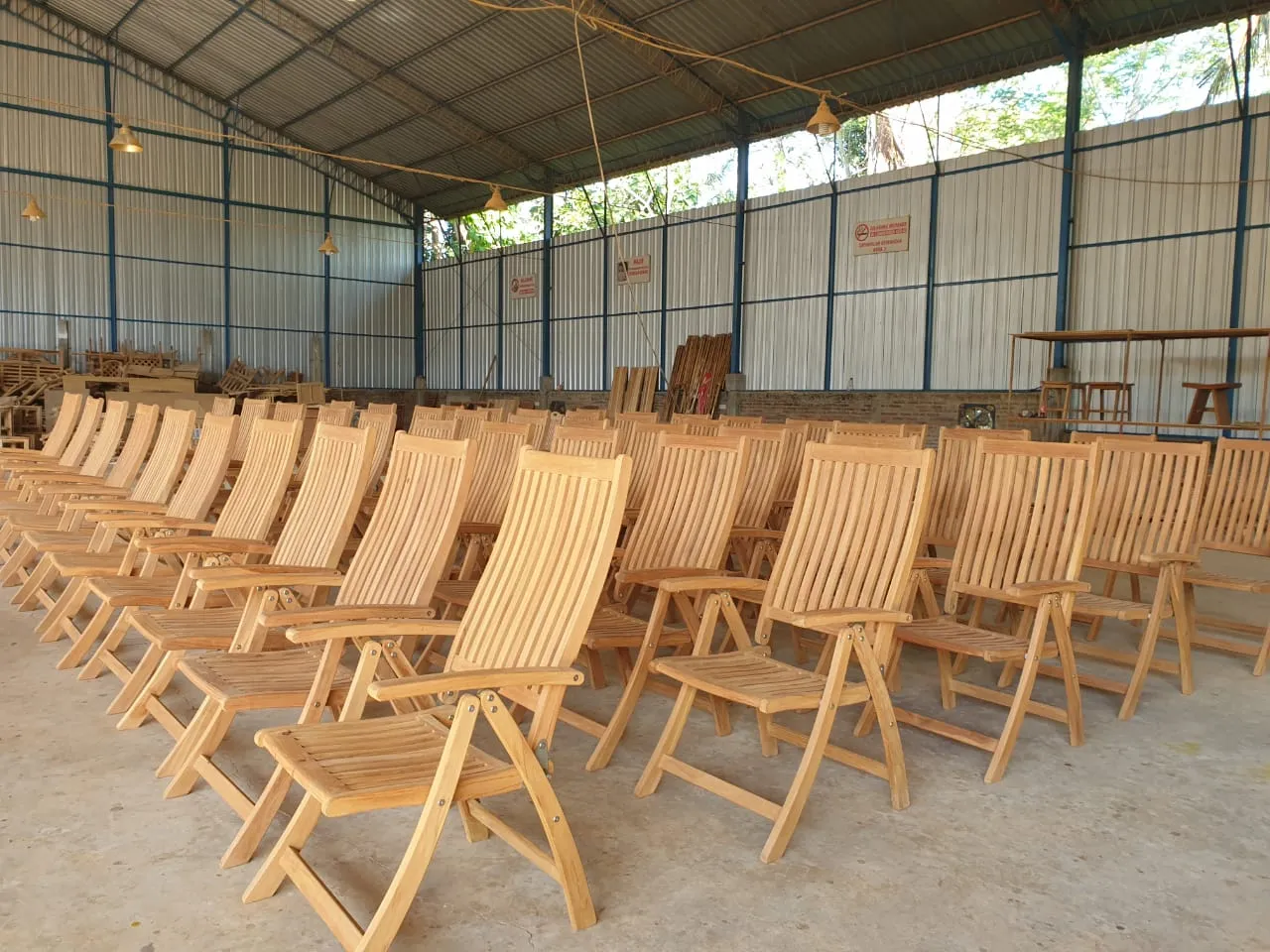 Research Design & Market Trends
Research Design & Trends in the furniture industry involve studying and analyzing the latest styles, materials, colors, and consumer preferences to create furniture that aligns with current market demands and preferences.
To create personalized furniture based on example images found on the internet, designers consider various factors, such as:
Colors: Colors can influence the mood and perception of space. Designers use colors strategically to create a specific atmosphere and complement other elements in the room.
Textures: Different textures can add depth and visual interest to furniture. Designers experiment with various materials, such as wood, stone, metal, fabric, and glass, to create a diverse palette of textures.
Patterns: Patterns can be used to create a unique and personalized aesthetic. Designers may mix different styles of furniture and accessories to achieve a harmonious composition.
Materials: The choice of materials can impact the overall look and feel of the furniture. Designers may use sustainable materials like rattan, seagrass, and bamboo to create environmentally responsible products.
Trend Furniture & Interior In Next 2024 : 


Geographically appropriate designs: Designers are focusing on creating spaces that reflect the local culture, materials, and environment
Natural and sustainable materials: There is a growing interest in using eco-friendly materials, such as wood, stone, and sustainable textiles, in furniture and interior design
Bold patterns and high contrast: Expect to see striking patterns, vibrant colors, and high contrast in interior design
Curved and organic shapes: Furniture and interior design will feature more fluid, curvilinear forms, moving away from straight-edged designs
Kaleb Trading, a leading company in the industry, specializes in helping clients source Indonesian's Raw Materials such as solid wood (Teak, Mahogany, Mindy, ect) & rattan-natural fiber, materials with SVLK and Central Union certifications for sustainability.
Our commitment to quality, innovative design, and impeccable delivery has made us the ultimate choice for clients seeking sustainable wood materials in the international market.
Our focus on sustainability is evident in our adherence to strict standards of product durability, incombustibility, and toxicity. We are proud to support the wood and wood product industry by ensuring that our products are based on the SVLK Certification.
Choose Kaleb Trading as your trusted partner in sustainable solid wood sourcing, and experience the difference of working with a company that prioritizes quality, innovation, and sustainability.